Leaving a Legacy: How Will I Be Remembered?
A guide for using wealth to make a difference in your family, community, and world.
Get the latest in Research & Insights
Sign up to receive a weekly email summary of new articles posted to AMG Research & Insights.
"*" indicates required fields
Earl Wright, AMG's Chairman and Co-Founder, speaks from his heart and over 50 years of experience working with individuals and families on the often-misunderstood topic of Leaving a Legacy. Watch interview (14:12)
In an 8-page free report, Earl describes how a satisfying legacy reflects your unique values and priorities and it doesn't necessarily require wealth. It requires reflection, self-knowledge, and vision.
The core components of a legacy are how you develop and deploy your "Time, Talent, and Treasure." With financial planning aligned to reach your "mark on the wall," you'll accumulate the resources to grow all three over time.
DEPLOYING YOUR "TIME, TALENT, AND TREASURE"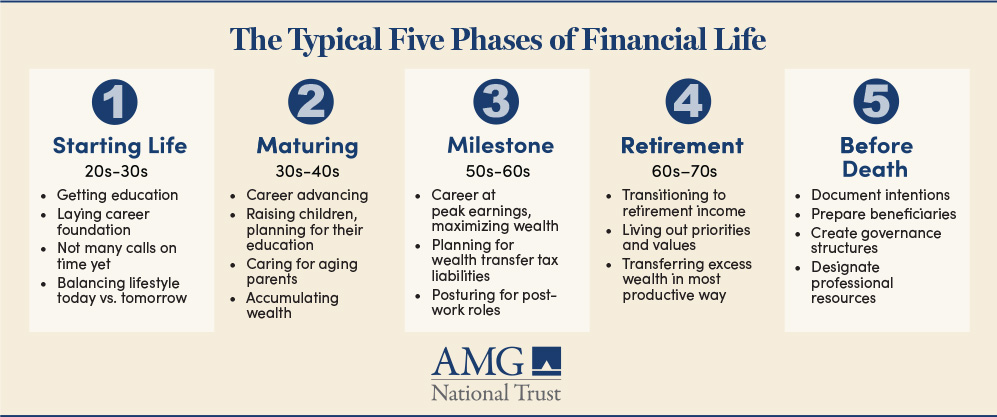 WHAT WILL YOUR LEGACY BE?
AMG's wealth advisors have deeply personal relationships with clients. We ask the difficult questions to help you think through your objectives—and collaborate with you on investment, tax, trust, and governance structures to accomplish your financial goals.
We specialize not only in helping you build a legacy over your lifetime but in distributing wealth in the most constructive and tax-efficient ways.
To book a free consultation call 800-999-2190 or email with the best day and time to reach you.
This information is for general information use only. It is not tailored to any specific situation, is not intended to be investment, tax, financial, legal, or other advice and should not be relied on as such. AMG's opinions are subject to change without notice, and this report may not be updated to reflect changes in opinion. Forecasts, estimates, and certain other information contained herein are based on proprietary research and should not be considered investment advice or a recommendation to buy, sell or hold any particular security, strategy, or investment product.