How Will You Pay for the Long-term Care You're Likely to Need?
Plan early to thrive, not just survive, in your golden years.
Get the latest in Research & Insights
Sign up to receive a weekly email summary of new articles posted to AMG Research & Insights.
Given the inexorable rise in health care costs and our increased longevity due to medical and dietary advances, we need to be planning farther in advance for the quality of care we want when we reach an advanced age—and how to pay for it.
One of the biggest misconceptions is that Medicare or Medicaid will pay for everything.
Far from it.
Medicare generally only pays for short-term skilled nursing care, such as cleaning wounds, changing dressings, and physical therapy. It typically does not pay for custodial care, the types of personal everyday tasks with which many elderly need help such as bathing, dressing and eating.
Medicaid typically does pay for medically necessary long-term care, but only for those who meet eligibility requirements. This can mean spending down your income and assets to meet eligibility levels. If you have more than $2,000 or so in non-exempt assets, you're typically ineligible.
We all want to experience healthy aging and high-quality care at the end of our lives. Yet often our choices for that care are directly related to the planning and financial preparation we've made years in advance.
WHO WILL NEED LONG-TERM CARE?
On average, someone turning 65 has almost a 70% chance of needing some type of long-term care, according to statistics from the U.S. Department of Health & Human Services, last modified in 2020. While most of us experience gradual aging, sudden long-term care needs can arise, such as when recovering from a heart attack, stroke, or a major bone fracture. Additionally, Alzheimer's disease and dementia are on the rise, currently affecting over 6 million Americans over age 65, or about 1 in 9.
WHAT IS LONG-TERM CARE?
Long-term care can be defined as care you may need if you are unable to perform certain basic self-care, the Activities of Daily Living (ADLs), or those activities that allow one to live independently, the Instrumental Activities of Daily Living (IADLs).
Those who need occasional help with IADLs may be able to get it from friends, family, or hired personal caregivers within the home. Those who can't perform two or more ADLs will typically need some form of skilled and often institutionalized nursing care.

WHAT FORMS OF LONG-TERM CARE ARE THERE?
Friends and family. According to a 2020 article from AARP, 53 million Americans, or 1 in 5, care for an aged parent or a child with special needs. This is a growing cohort reflecting the children of the aging and demographically large Baby Boomer generation—and one that is increasingly stressed out considering many are caregiving and working at the same time.
Home-based long-term care. To enable people to stay in their home for as long as is possible, caregiving can be provided by homemaker or personal care services, paid out-of-pocket, or by skilled nurses and therapists, paid by Medicare if the patient is over 65 and treatment is ordered by a physician for short-term medically necessary care when recovering from a surgery, accident, or illness.
Facilities specializing in long-term care. When friends, family, and local programs are not enough, various types of residential facilities, assisted living, and nursing homes cater to long-term care needs with models and costs reflective of the extent of care provided.
Residential care facilities typically are small and have staff to help with personal care and meals, but do not typically have medical staff onsite.
Assisted living facilities typically offer different levels of care, including meals, personal care, medication management, housekeeping and laundry, and 24-hour supervision. Residents often live in their own rooms or apartments and share common spaces. Some offer dedicated memory care services.
Skilled nursing facilities and nursing homes provide a wide range of personal and health services with more of a focus on skilled medical care. Some people stay for a short time after being in the hospital. Others stay for extended periods because of ongoing physical or mental ailments.
HOW MUCH IS LONG-TERM CARE?
The median annual cost for home-based care or a private bedroom in an assisted living facility in 2021 ranged from $54,000 to $61,776. Once needs advance to skilled nursing care, costs essentially double for a private room in a nursing home, coming in at $108,405 for the 2022 median cost. In California, for instance, the average cost of a private room in a nursing home in 2021 was about $146,000 a year. In Georgia, the cost was about $91,250 a year. These costs have increased by roughly 2 to 4 percent annually on top of inflation, so if trends continue, the cost is likely to be much higher by the time you may need care.

HOW TO PAY FOR LONG-TERM CARE?
If you don't wish to spend down your income and assets to the low levels needed to qualify for Medicaid, there are a few available options to pay for long-term care.
Medicare. Medicare typically only pays for a nursing home for a maximum of 100 days. The average Medicare-covered stay is much shorter. It will also only pay for medically necessary skilled nursing and home care such as administering shots, changing dressings, and physical therapy. It will not pay for long-term custodial care services such as bathing, dressing, and eating.
Self-insure. Depending on your financial situation, paying out-of-pocket may be workable. AMG's wealth advisors can help you gain a comprehensive understanding of your financial goals and resources while considering your current health and family health history.
Long-term care insurance. A dedicated long-term care insurance policy can help cover expenses, such as stays in nursing home facilities or home health care provided by a professional. Premiums for long-term care policies average around $2,700 a year, but vary depending on the type, amount, length of coverage, your age at purchase, gender, and overall health. Many begin looking at these policies when they are 50. They generally become more expensive as you get older, and often you will not be underwritten when you have a confirmed illness.
Life insurance with a long-term care rider. These hybrid policies are a combination of life insurance with a death benefit and a long-term care benefit. Some policies require you to pay a lump sum in advance rather than periodic premium payments yet will return the rider premium if the long-term care benefits are not used. Other policies allow the death benefit to be accelerated to pay for care or for the policyholder to withdraw the policy's cash value to pay for long-term care. Typically, you can purchase either a long-term care rider or a chronic illness rider, which generally have different features.
If you have an existing whole life or annuity policy, you could consider whether you can take advantage of 1035 exchange rules to trade it in for a qualified hybrid product.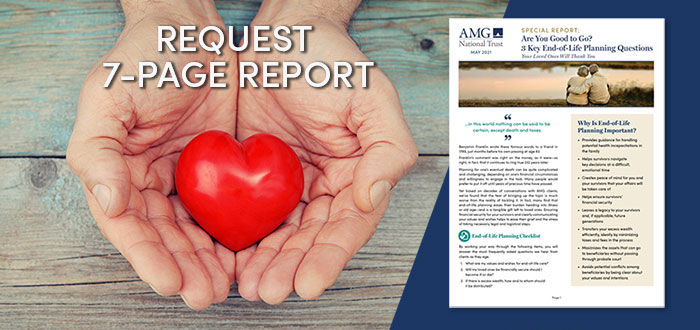 Planning for long-term health care is just one aspect of end-of life planning. We've written a 7-page special report that prompts you to think through 3 Key End-of-Life Planning Questions:
What are my values and wishes for end-of-life health care?
Will my loved ones be financially secure should I become ill or die?
If I have excess wealth, how and to whom should it be distributed?
How you approach funding long-term health care expenses is going to depend a lot on your personal financial situation and health. Just remember that time is often your friend when considering self-funding or buying insurance policies.
To discuss your current financial situation and begin to create your comprehensive financial plan, contact an AMG Advisor at 800.999.2190 or Contact Us.
This information is for general information use only. It is not tailored to any specific situation, is not intended to be investment, tax, financial, legal, or other advice and should not be relied on as such. AMG's opinions are subject to change without notice, and this report may not be updated to reflect changes in opinion. Forecasts, estimates, and certain other information contained herein are based on proprietary research and should not be considered investment advice or a recommendation to buy, sell or hold any particular security, strategy, or investment product.
Get the latest in Research & Insights
Sign up to receive a weekly email summary of new articles posted to AMG Research & Insights.