Do You Have Enough Property and Liability Insurance?
High-net-worth individuals tend to be underinsured.
Get the latest in Research & Insights
Sign up to receive a weekly email summary of new articles posted to AMG Research & Insights.
Key Takeaways:
Personal risk management involves considering everything you do and the total value of what you own to identify and potentially manage events that could negatively impact your wealth.
High-net-worth families with multiple properties, vehicles, jewelry, collections such as fine art or wine or other valuables often need more financial protection than they think.
An umbrella insurance policy offers protection against unexpected events after coverage from other insurance policies, such as personal property or liability insurance, is exhausted.
Generally, insurance is used to help protect against known risks and unforeseen events in our lives. Many of us, however, may lack the financial protection we need because we are underinsured. In fact, four in five insurance brokers believe high-net-worth clients are often underinsured, according to a recent survey.
Underinsurance can leave individuals and their businesses vulnerable to significant financial losses, property damage and liability claims. Some common reasons for underinsurance include a lack of awareness about rebuilding/repair costs or the value of a building or its contents; the effect of inflation; and trying to avoid the cost of higher insurance premiums.
We believe that insurance can play a role in personal risk management—including adequate property and personal liability coverage. It can help transfer all or part of the risk of potential losses that could derail a long-term wealth strategy. It should be part of a comprehensive financial plan that is reviewed regularly by your advisor.
WHAT IS PROPERTY AND LIABILITY INSURANCE?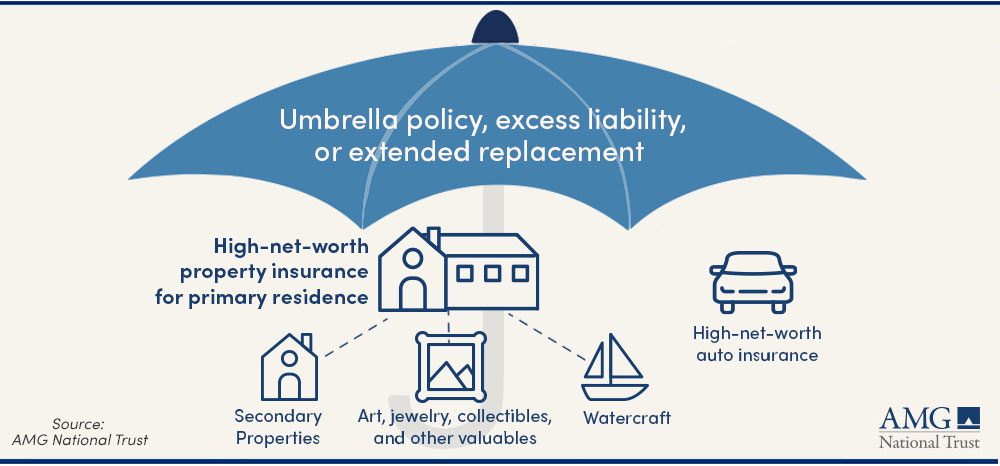 If you own a home or vehicle, you likely are familiar with property and liability insurance, as policies are typically required by mortgage lenders and state law.
Property insurance can help protect a vehicle, a residence/building/other structure, its interior and exterior contents, and other property against the threat of damage, such as from fire, theft, accident, or weather. The coverage limits and deductible typically determine the costs and level of reimbursement.
Personal liability insurance is aimed at insuring against legal claims made against the policyholder (such as an employer, motorist, or homeowner) by an injured third party after, for example, a car accident, tripping in the policyholder's yard, or a dog bite.
Excess liability coverage supplements the primary policy's coverage limits. It may have more restrictions than the underlying policy, however.
An umbrella insurance policy is an additional policy that sits above other policies. It generally offers broader protection when you may not have an underlying policy in place and increases coverage when the liability limits in other policies are exhausted. The cost of umbrella insurance varies based on geography, your assets, the specific events being underwritten, and the maximum liability coverage.
IS AN UMBRELLA POLICY WORTH HAVING?
An umbrella insurance policy can be an important tool to help manage risk. It provides additional protection and higher liability limits than other policies you may have purchased, such as homeowner, auto, or watercraft.
Your homeowner policy, for example, may have a liability limit of $300,000 to $500,000. In a serious accident, that may not be nearly enough protection.
A separate umbrella policy would kick in after that coverage is exhausted and cover you up to a much higher amount. It also can help pay for legal fees if you are being sued for damaging someone else's property or bodily injury and medical bills.
Example: The value of an umbrella policy
Your teen is driving your vehicle and causes an accident that injures several individuals, and you eventually are ordered to pay $3 million in damages. The liability portion of your auto insurance has a $500,000 limit, but you also have a $5 million umbrella policy. After the $500,000 personal liability limit is exhausted, the umbrella policy kicks in to cover the excess liability of $2.5 million.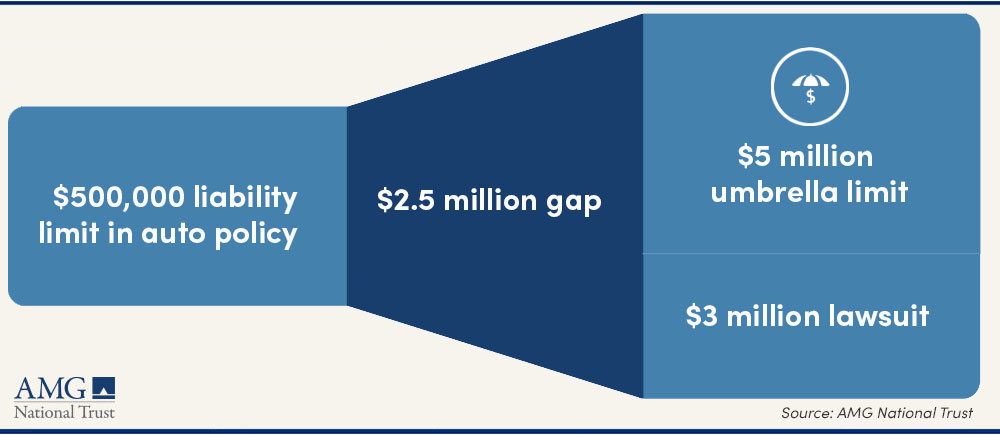 HOW MUCH UMBRELLA INSURANCE COVERAGE SHOULD YOU CONSIDER?
Umbrella policies are typically sold in million-dollar increments, starting at $1 million—which may not be sufficient for high-net-worth families. Maximum liability coverage of $50 million to $100 million is not uncommon.
If you are shopping for the appropriate amount of umbrella coverage, an advisor may encourage you to consider an amount commensurate not only with your current income but also with the estimated stream of future income. This may be recommended because your future revenue stream could be attached in a judgment.
ARE YOU EXPOSED? POTENTIAL LIABILITIES
We recommend that you work with a financial advisor to build an integrated wealth plan with your specific goals and circumstances in mind. Assessing areas of potential liability or asset loss is not a one and done process. Your plan ideally should evolve as your exposures change.
Anyone can be susceptible to a liability event, but high-net-worth individuals may be even more vulnerable when considering the rising number of lawsuits. The more you have, the more you may have to lose.
Potential Liability Exposures

• Own one or multiple homes/residences
• Host events where alcohol is served
• Residence(s) include amenities such as swimming pool, stable, trampoline
• Participate in recreational activities that could cause damage to others (scooters, skiing, snowboarding)
• Own one or more dogs
• Frequent cycling on streets and highways
• Own rental property
• Hire domestic workers or other employees on a regular or "as needed" basis
• Own/operate watercraft and/or recreational vehicles (snowmobiles, ATVs, golf carts)
• Hire caregivers for ill or disabled individual(s)
• Own/operate drones
• Domestic workers/caregivers reside on premises
• Own motorcycle or motorized bike
• Primary or secondary business is home based
• Own an airplane or jet; fly private aircraft
• Self-employed as a professional consultant
• Own one or multiple automobiles
• Hold position as a corporate officer or board director
• Teenage drivers in family, drivers who have reached age of majority can still be dependents
• Serve as a director for nonprofit organization
• Grown children are living at home
• Participate in volunteer activities involving responsibility for organization's money/finances; application of professional skills as part of volunteer work; supervision of activities for minors
• Family members actively use social media (LinkedIn, Instagram, Facebook, Twitter, TikTok)
 
Source: AMG National Trust
Real property and personal property
An advisor may steer the owners of high-value homes (generally valued at $1,000,000 or more) to high-net-worth (HNW) insurance with higher coverage limits than may be found in standard insurance policies. These policies can protect items such as personal belongings, valuable décor or furnishings, fine art, jewelry, and other unique features in the home.
If a property is destroyed, some HNW policies may allow you to choose between rebuilding or receiving a cash settlement. They may also guarantee replacement cost value.
Other concerns include:
Do you own a rental property

? Each property likely will have its own policy. It may cover losses caused by the tenant as well as the loss of rental income while repairs are ongoing. An additional risk is if a contractor or technician makes repairs that lead to an injury to a tenant.

Remodeling/repairs

. A worker could suffer an injury in your home; valuable objects could be stolen; the work could cause other damage to the structure.

Dog bites

. Biting is one of the most common liability claims against homeowners. About 4.5 million people are bitten by dogs in the U.S. each year, leading to more than $1 billion in liability claims in 2022.

Pools

. In addition to the danger of drowning, people may have a physical reaction to the chemicals used to clean pools and the germs that can thrive in them. Someone also could slip on a wet surface or hit the pool's floor or walls when diving.

What if you host events/fundraisers

? Some states have enacted social host liability laws that hold the host responsible for injuries at the event, as well as for incidents involving intoxicated guests. Hiring a private or mobile bartender with their own liability coverage may limit your liability on claims that can reach into hundreds of thousands of dollars. Other suggestions to limit liability include providing a ride share service or designated driver and providing non-alcoholic and water options.
Cars and drivers
Understanding whether you live in an at-fault or no-fault state can be a starting point for selecting auto insurance. But an affluent driver may face more scrutiny, and also may want to look beyond the standard options.
Deductibles

. Determine the level of damage to a vehicle that you are willing to pay for out of pocket. It may not make sense to have a low deductible of $500 or $1,000 relative to your net worth when you may be able to write a check for $10,000 without wincing.

High-value, classic, and exotic vehicles

. These vehicles generally do not depreciate in value like other vehicles and may instead appreciate. Consider a policy that provides for an agreed value or actual cash value in the event of damage. Also consider requiring that original manufacturer parts be used in every repair.
Is there a teen driver in your family? Drivers aged 16 to 20 make up the smallest number of licensed drivers by age group per 100,000 drivers yet are involved in the highest percentage of fatal crashes, according to 2020 data. That's another reason to consider raising your coverage limits.
Family and personal relationships 
Changing patterns of marriage, divorce, and co-habitation have complicated the matter of keeping tabs on who is covered and under what circumstances insurance coverage applies. For instance, policies often only include the policyholder's spouse if the spouse resides in the household. An estranged spouse living under a different roof might not be covered.
If an unmarried couple lives under the same roof, do not assume each partner is covered by the other's policy.
Has a home been transferred to a living trust? In this instance, consider asking to have the trust added as an insured under the relevant policies.
Children and relatives living in the household generally are covered. It's recommended that you inquire about coverage for children living away from home and for adult children moving back home.
Is a loved one living in an assisted living or nursing home facility? They still are subject to liability exposures, but their homeowner policy may cover them. A renter's policy also could provide property and liability coverage.
An individual's financial liabilities—such as mortgage payments, taxes, loan repayments—can affect the entire family, so it may be worth considering a policy that protects the family in the event of your death. (Related Article:  "Are You Good to Go?")
Recreational/leisure activities or extreme sports 
Have you finally found the time to plunge all the way into a favorite hobby, such as racing a car or boat? Perhaps cycling is your thing? Maybe horse agility events, or skiing? Activities like these can carry a staggeringly high risk of injury or death to you or others.
Also, consider your legal obligation in the event of damage to other parties. Take this scenario:
Parents plan to host a birthday party for their teen on several acres of land they own. They've rented several ATVs and will allow their teen's friends to ride them unsupervised and without checking whether the teens know how to operate them safely. There's a distinct possibility that someone could be injured; the parents could then be held liable in a personal injury lawsuit.   
While participants in extreme sports may be asked to sign liability waivers or assumption of risk forms, not all risks can be waived. The snowboarder who injures someone or the cyclist who causes a car accident would likely need to fall back on the liability protection offered under their homeowner and umbrella liability policies.
Domestic workers
Roughly 2.2 million people, such as nannies, housecleaners, and home care staff, work in U.S. homes. Think of all that could befall someone who spends several hours a day on your property—maybe even lives there. The daily duties of these domestic workers can be scrutinized to identify situations that could lead to accident or injury.   
Workers comp

. The insurance protection available can depend on whether the hired worker is an employee or an independent contractor. This distinction may determine when separate workers compensation insurance must be purchased for a worker.

Business pursuit

. Your personal liability policies generally will not cover the loss if it results from a business; a commercial general liability policy likely would be required. It is hard to imagine that an employee such as your housekeeper would be categorized as a "business pursuit." Nonetheless, when employing domestic workers, it is recommended to obtain written verification for this from your insurance agent.

Nanny

. Is your nanny covered under your insurance if they drive your car? If the nanny drives their car, have you assessed the limits of coverage under their auto insurance policy to assure your loved ones are adequately covered while riding along?
Volunteer activities
Nonprofit organizations may receive complaints about fundraising, finances, and company policies, among other things. While directors and officers insurance can help protect directors and officers from liability, organizations rarely carry professional liability insurance for volunteer staff that may deal extensively with the public or minors.
If a volunteer is to handle an organization's money, it would behoove the volunteer to determine if that individual is bonded for this fiduciary obligation.
Work-at-home environment 
In contemporary American society, self-employment, home businesses and telecommuting can be alternatives to traditional 9-to-5 jobs.  Note, however, that homeowner and personal umbrella policies usually exclude liability coverage for business pursuits and employee hiring practices.
In addition, if property belonging to a client or employer is damaged or stolen while it is being used or stored in a home, it generally will have minimal or no coverage under the homeowner policy.
Other high-net-worth individual liabilities
As you are evaluating risks, these are some others that may jump out:
Social media activity & identity theft/fraud (see our related article "ID Theft & Fraud: Keep Your Guard Up")
Kidnap and ransom insurance, particularly for frequent overseas travelers.
HOW MUCH COVERAGE VS. COSTS?
When evaluating insurance policies, key factors that often drive premiums include how much coverage you want, the insurance company's actuarial assessment of the probability of claims and the cost of those claims, and the deductible or share of claims costs borne by the policyholder.
A common mistake is to focus primarily on a policy with the lowest premiums. This likely would mean that the policy has lower coverage and a higher deductible. Conversely, the risk averse may be willing to pay the highest premiums monthly to get the lowest deductible when making a claim. But this may lead to overpaying for financial protection you don't necessarily need.
Many factors can go into calibrating the mix of coverage, premium, and deductible that best suit your unique circumstances.
For example, a homeowner may be less concerned with protecting against low-impact, high-probability events such as roof damage if they have stable cash flows. They may select a high-deductible, low-premium property insurance policy because liquid savings affords them the ability to easily replace the roof. Their policy would still offer financial protection for a high-impact, low-probability event such as a fire. In the meantime, the money saved in monthly payments could be invested.
In contrast, those without ready cash or liquid savings may wish to pay incrementally more each month in premiums to have a lower deductible and a lower cost to them when making a claim.
WHO CAN YOU TALK TO ABOUT YOUR INSURANCE NEEDS?
While a wealth manager or other advisor can point out areas of potential property or personal liability as part of your financial plan, typically only licensed insurance agents or brokers can discuss specific policy coverages, costs of coverage, or recommend insurance products. A captive agent represents one insurance company. An independent agent may work with several companies and sell specific insurance policies. A broker, on the other hand, represents you and acts as an intermediary between you and insurance companies. All may earn a commission on each policy sold. Brokers may charge a fee. You also can bypass certain agents or brokers and purchase insurance directly from a company.
AMG CAN HELP IDENTIFY RISKS WITHIN YOUR FINANCIAL PLAN
AMG is neither an insurance agent nor a broker, and we do not make specific insurance recommendations. Our aim is to raise awareness of potential property and liability exposures in the management of a client's personal wealth management and prepare them for a discussion with an insurance agent or broker regarding additional insurance coverages or advantageous changes to existing policies.
To find out more about AMG's Personal Financial Management (PFM) or to book a free consultation, call 303-486-1475 or email us the best day and time to reach you.
FREQUENTLY ASKED QUESTIONS
Four in five insurance brokers believe high-net-worth clients are often underinsured, according to a recent survey of insurance brokers. Some common reasons for underinsurance include lack of awareness about the value of their assets, inflation, inadequate coverage limits, and choosing lower premiums over comprehensive coverage.
Comprehensive wealth management generally encompasses all you do and own, which may be protected against the risk of liability or asset loss by optimizing insurance policies with cash flows and other uses of funds, as well as personalized risk tolerance.
An umbrella insurance policy can help manage risk by providing protection far above the liability limits in separate homeowner, auto, watercraft, or other policies, typically starting at $1 million. It also can help cover legal fees in a lawsuit.
This information is for general information use only. It is not tailored to any specific situation, is not intended to be investment, tax, financial, legal, or other advice and should not be relied on as such. AMG's opinions are subject to change without notice, and this report may not be updated to reflect changes in opinion. Forecasts, estimates, and certain other information contained herein are based on proprietary research and should not be considered investment advice or a recommendation to buy, sell or hold any particular security, strategy, or investment product.
Get the latest in Research & Insights
Sign up to receive a weekly email summary of new articles posted to AMG Research & Insights.