August Inflation: Transitory, Not Transitioned
Slowing consumer price increases consistent with AMG's view that post-pandemic reopening was responsible for spike in early 2021.
Get the latest in Research & Insights
Sign up to receive a weekly email summary of new articles posted to AMG Research & Insights.
AUGUST DATA RELEASE SUPPORTS AMG ECONOMIC FORECAST
AMG expected inflationary pressures to ease in August, consistent with AMG's view that transitory forces, primarily linked to post-pandemic reopening, were the chief culprit earlier this year. Based on the latest data release from the Bureau of Labor Statistics, that appears to very much be the case.
CPI Data Weakest in Months
The U.S. Consumer Price Index (CPI) increased, but August readings marked weakest points in several months. Headline CPI and Core CPI increased by 0.3% and 0.1%, respectively.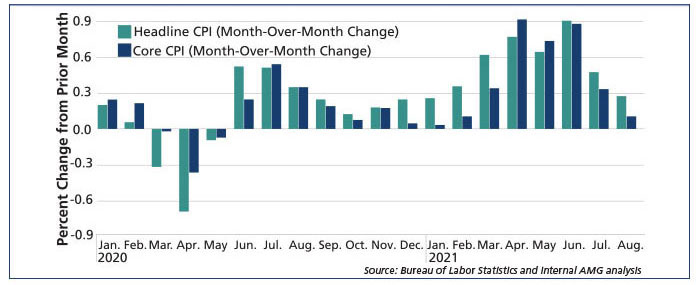 On a year-over-year basis, CPI-based inflation decelerated. Although still high by historical standards, Headline CPI and Core CPI of 5.3% and 4.0%, respectively, indicated a downward trend.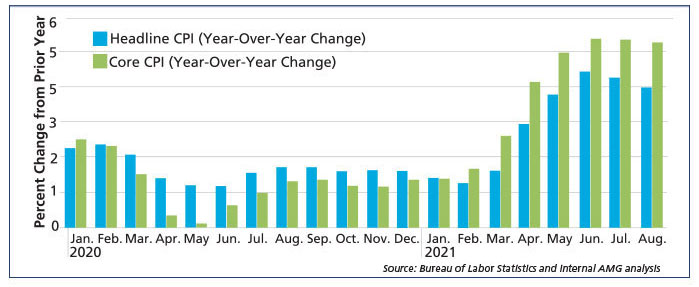 Reopening-Sensitive Travel Industries Drove Decline
One big reason for the softer-than-expected numbers was the decline in the reopening-sensitive categories of airline fares and hotel rates. Both came down quite a bit in August after surging in previous months. The other big contributor to the softer data was the outright decline in prices for used cars and trucks, the first decline since February.
Lodging away from home declined almost 5%, car rental declined more than 10%, and airfares declined almost 13% from prior month. Rental inflation logged another 0.3% increase in August, in-line with pre-pandemic trends but not accelerating.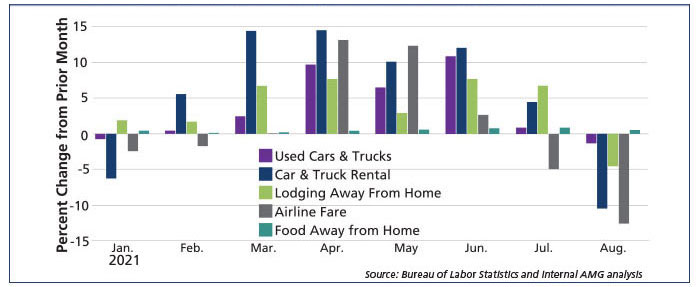 With year-over-year inflation rates beginning to moderate, that should give more credence to Federal Reserve officials who have been insisting that the kinds of price increases we've been seeing lately are transitory.
Is the economy "out of the inflationary woods," so to speak? No, not quite yet.
Producers and importers continue to report upward pressures on prices, which may trickle to consumers down the line. Global supply chains are recovering, but their disruption keeps freight costs elevated and the timing of recovery in global logistics far from certain.
This information is for general information use only. It is not tailored to any specific situation, is not intended to be investment, tax, financial, legal, or other advice and should not be relied on as such. AMG's opinions are subject to change without notice, and this report may not be updated to reflect changes in opinion. Forecasts, estimates, and certain other information contained herein are based on proprietary research and should not be considered investment advice or a recommendation to buy, sell or hold any particular security, strategy, or investment product.
Get the latest in Research & Insights
Sign up to receive a weekly email summary of new articles posted to AMG Research & Insights.