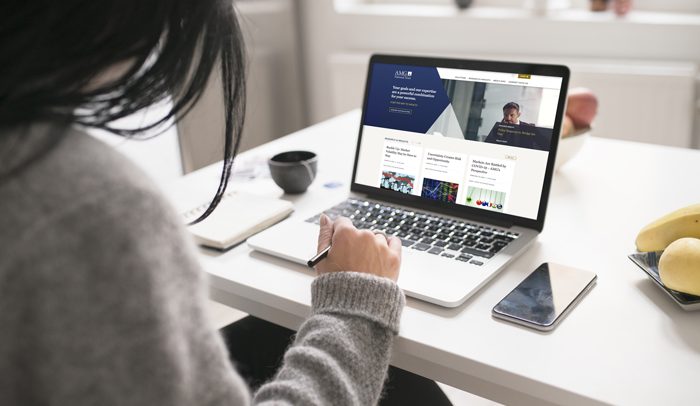 As a wealth manager and bank, we understand that you rely on us to keep your assets safe and available. We want to reassure you that we are doing so through this unusual and uncertain time. As the COVID-19 situation evolves, we remain committed to delivering the high level of service you expect, and we remain staffed to do so.
We also are working to maintain the health and safety of our clients, staff, and the communities we serve. AMG is monitoring and following contagion mitigation practices throughout the U.S. and other guidance from the Centers for Disease Control (CDC), the World Health Organization (WHO), and state health departments where AMG has staff. We will continue to adjust our procedures as guidance from these organizations change.
USING TECHNOLOGY TO CONTINUE SERVING CLIENTS
Rest assured that essential operations are uninterrupted, including trading, cash disbursements, bank teller windows, and tax return preparation. We also plan to have all AMG offices remain open during normal business hours. We do not expect our services to be curtailed. We have developed and tested detailed contingency plans for over two decades, so we are confident that we have the plans in place to maintain our operations.
AMG's website is a great resource to keep you up-to-date on the latest research and insights from the AMG team, including those related to COVID-19's impact on financial markets. Clients can also access their online account portals directly from our website.
AMG's advisors and bankers are available for video calls, phone calls and emails. For the protection of your health and that of our staff, we encourage these communication methods over in-person meetings when possible until this contagion period passes.
Technology also is allowing some of our staff to work from home using secure connections to firm networks and infrastructure. Those remaining in the office use social distancing and other mitigation measures recommended by health experts. Staff members who are not feeling well or who have potential exposure to the virus are required to stay home. AMG's critical vendors have assured us that they are taking similar steps to provide no interruption to services.
FIND AMG'S INSIGHTS EVENTS ONLINE
AMG has cancelled all in-person events originally scheduled to take place in late March and early April across the country, including our annual Insights on the Economy events. Instead, we will host a series of webcasts providing our up-to-date research and analysis of the current economic and market conditions arising from the spread of COVID-19. Current clients will receive an invitation (via email or mail) to these webcast events or you can Request a Webcast Invitation.
As we continue to come together as communities and as a country to get through this uncertain time, please know that AMG remains dedicated to you and to everyone's health and safety.