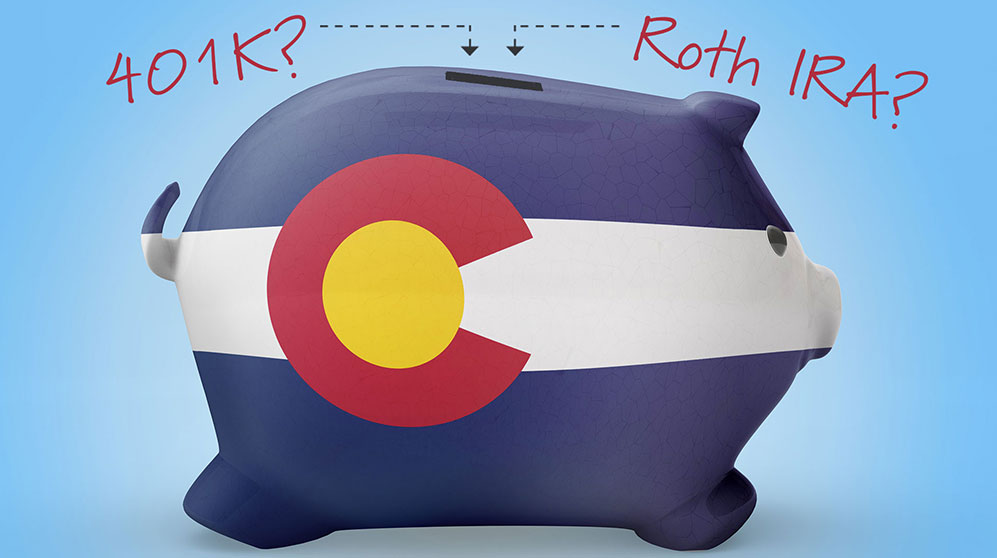 In 2023, Colorado will join a growing list of states requiring most businesses to offer an employer-sponsored retirement savings program, like a 401(k) plan or Simplified Employee Pension Plan (SEP), or to enroll those without access into a state-sponsored one called Colorado SecureSavings, which uses Roth IRAs.
The not-for-profit Colorado Retirement Association estimates that 92,808 employers in the state currently don't offer a retirement plan to employees. The lack of workplace retirement savings accounts disproportionately affects employees at small businesses, young and minority workers, and lower-income earners, according to Colorado Senate Bill 20-200.
By design, the Colorado Secure Savings Program is not meant to replace existing employer-sponsored retirement savings plans, but to address this gap in workplace-provided programs.
Colorado businesses with five or more employees, act now
Now is a great time for all Colorado businesses with five or more employees in business for two or more years to evaluate their retirement benefits programs and whether they will meet the new state-mandate.
Employers choosing between Colorado's default Roth IRA program and one of their own should consider the flexibility, features, and tax benefits wanted. Various qualified retirement plans could comply and offer more.
LEARN MORE: 401(K) vs. ROTH IRA
For example, because the state government's new program will be a Roth IRA, federal eligibility requirements and limits will apply.
In 2022, eligible individuals can contribute on an after-tax basis up to $6,000 in a Roth IRA with an added $1,000 if age 50 or older.
These amounts are reduced or eliminated entirely depending on income and filing status. For example, a single filer with income less than $129,000 can make the full contribution. Those with income over $144,000 can't contribute at all.
Compare these limitations with an employer-sponsored 401(k) plan:
No eligibility cap on high earners;
Annual contribution limits are much higher; potential to max out with an employer match at a $67,500 total annual contribution, if age 50 or older; and
Flexibility for pre-tax (Traditional) and after-tax (Roth) contribution options.
RELATED ARTICLE: Deciding Between a Traditional and a Roth 401(k)?
Many employers, especially those with highly compensated employees, may choose to offer their own 401(k) plan instead of defaulting eligible employees to the state program to take advantage of the higher contribution limits and potential pre-tax contribution benefits. There are tax credits available to help.
| | |
| --- | --- |
| Employer-sponsored 401(k) Plan | Colorado SecureSavings Roth IRA |
| Employer controlled | Government controlled |
| Employer contracts with knowledgeable ERISA plan administrators to reduce fiduciary risks | Employer administers payroll contributions for eligible employees |
| All employees can participate | Only Roth IRA-eligible employees can participate |
| Flexible plan design to help attract and retain specific employees | One-size-fits-all, no choices |
| Open architecture of mutual funds, ETFs and other investment portfolios | 4–5 investment choices expected |
| Potential 2023 contributions of $73,500 | Potential 2023 contributions of $7,500 |
| Contributions may be pre-tax (Traditional) or after-tax (Roth) | Contributions are after-tax (Roth) only |
| Employer match offered, typically | No employer match |
DOWNLOAD A MORE DETAILED COMPARISON
What are the key features of the Colorado Secure Savings Program?
The Colorado Secure Savings Program goes into effect on January 1, 2023, and will start being enforced in 2024.
A Colorado employer in business two or more years with five or more employees and no current qualified retirement plan must facilitate employee participation in Colorado SecureSavings, which will be administered through automatic payroll deductions through existing payroll systems.
Eligible employees will be auto enrolled in a Roth Individual Retirement Account (IRA) at 5% of pay with an automatic increase of 1% each year, up to a maximum of 8%. Employee participation is voluntary; employees may opt out, increase or decrease the contribution rate, or re-enroll at any time.
Employers do not have to match contributions, nor are they considered fiduciaries. The Colorado Secure Savings Board acts as fiduciary, having discretion over the program's design and the selection and monitoring of its investment options.
In case of noncompliance, employers may be liable to pay an annual fine of up to $100 per eligible employee per year, up to $5,000.
Why are states starting to require workplace retirement accounts?
Insufficient retirement savings negatively affect individuals and families, but also can have dire consequences for state economies.
For example, analysts estimate that an increase in expenditures on assistance programs and decrease in revenues from taxes on spending in local economies could result in an almost $10 billion negative impact on Colorado state's budget over 15 years.
Exhibit: Colorado State Fiscal Impacts from Insufficient Savings, 2020-2035 ($2020)

Tax credits may offset eligible retirement savings plan startup costs
Employers interested in starting a retirement plan yet concerned about the cost of plan administration have assistance through tax credits provided under the SECURE Act of 2019.  According to the IRS, you qualify to claim this credit if:
You had 100 or fewer employees who received at least $5,000 in compensation from you for the preceding year;
You had at least one plan participant who was a non-highly compensated employee (NHCE); and
In the three tax years before the first year you're eligible for the credit, your employees weren't substantially the same employees who received contributions or accrued benefits in another plan sponsored by you, a member of a controlled group that includes you, or a predecessor of either.
The credit is for half of eligible startup costs, up to $5,000. Qualified employer expenses include recordkeeping fees, plan administration fees, support services from a retirement vendor, and costs of educating employees about the plan. See IRS Form 8881 for the credit calculation.
AMG is an expert in small business retirement plan administration
Designing a 401(k)-retirement plan, administering it effectively, and keeping it compliant with changing laws is a daunting task for many employers.
But you don't have to default to Colorado SecureSavings, the state-administered Roth IRA plan.
AMG can help Colorado businesses offer a more flexible plan specific to their participant population's needs and that employees truly value, helping to attract and retain valuable talent.
Our comprehensive retirement plan solutions include:
Plan design and administration
Independent investment advice
Investment management and asset custody
Participant education
Ongoing compliance and Form 5500 preparation
Trustee expertise for both qualified and non-qualified plans
Need Help Designing a Plan for You and Your Team?
To book a free consultation with an AMG Advisor call 303-486-1480 or email with the best day and time to reach you.
Frequently Asked Questions
What is Colorado SecureSavings?
In 2023,
Colorado SecureSavings
will provide payroll-based Roth Individual Retirement Savings Accounts (IRAs) to those without access to a qualified employer-sponsored retirement plan. Nearly 940,000 or 40% or of Colorado's citizens are estimated to potentially benefit from this new workplace-facilitated individual retirement savings program.
What makes Colorado SecureSavings different from other states' programs?
Colorado's new retirement savings program is different from other states' programs in two key ways:
Colorado is the first state to mandate that all employers with at least five employees offer either a company-sponsored retirement plan or enroll employees in the state-sponsored plan. Fines for noncompliance may be $100 per employee per year up to $5,000.
Colorado and New Mexico will be the first states to partner together and potentially lower shared administrative costs while also providing participants portability of their accounts when moving between states.
What are the key features of the Colorado SecureSavings Program?
A Colorado employer in business two or more years with five or more employees and no current qualified retirement plan must facilitate employee participation in Colorado SecureSavings, which will be administered through automatic payroll deductions through existing payroll systems.
Eligible employees will be auto enrolled in a Roth Individual Retirement Account (IRA) at 5% of pay with an automatic increase of 1% each year, up to a maximum of 8%. Employee participation is voluntary; employees may opt out, increase or decrease the contribution rate, or re-enroll at any time.
Employers do not have to match contributions, nor are they considered fiduciaries. The Colorado Secure Savings Board acts as fiduciary, having discretion over the program's design and the selection and monitoring of its investment options.
In case of noncompliance, employers may be liable to pay an annual fine of up to $500 per eligible employee per year, up to $5,000
Colorado Businesses, You Have a Choice